Filmar subframes for brickwall
Thursday May 30th, 2019

Posted by:

admin

Category:
In this article we will examine, as opposed to the previous article, the models of Filmar counterframes compatible with brickwall installation, in fact, despite the growing popularity of plasterboard walls, even today, especially in the case of renovation 3 sliding doors out of 4 are installed on side walls (brickwall).
The special characteristics of a Filmar subframe for brickwall are:
the presence of a galvanized steel mesh (30×50 mm), which allows a much stronger seal of the plaster and avoids the creation of cracks and fissures in the wall, preserving over the years the stability of the subframe and the finish of the wall.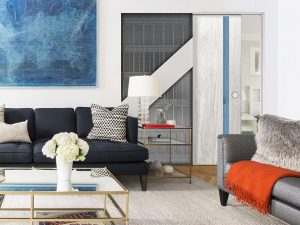 The sturdiness of the structure, designed specifically for application in the side walls, is essential to prevent deformation of the subframe, due to the pressures given by the expansions that are created during the maturation of the materials that make up the wall, and also to preserve it over time resisting the weight that will support, without suffering damage, to ensure a smooth operation, which can only be achieved thanks to the strength of the frame that does not allow all these external agents to change the tolerances and operating parameters of the components established in the design phase.
Finally, the quality of the materials, a characteristic that is meticulously taken care of in all Filmar products, but which in this case plays a fundamental role, choosing metals of excellent workmanship is in fact imperative to ensure stability and resistance to lateral and longitudinal pressures that the subframe will have to undergo during its use, and to ensure to Filmar customers the highest quality whatever the model chosen.