The subframe for sliding doors: an all-Italian invention
Monday August 5th, 2019

Posted by:

admin

Category:
The concept of a sliding door goes back thousands of years from the city of Pompeii, where traces of tracks that testify to the presence of sliding systems as early as the first century AD can still be seen today, passing through medieval Japanese houses in which "fusuma" were widely used, rectangular vertical panels that thanks to their flow redefined the spaces, until arriving in Britain between the end of 1800 and the beginning of 1900 where in the living rooms in Victorian style suspended panels were installed hooked to a track to divide the rooms.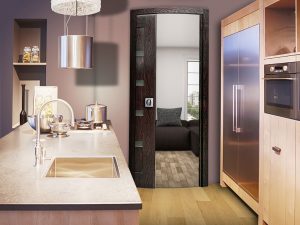 But even if the concept of a sliding door divider goes so far back in time, everyone in the industry is quite in agreement that the modern sliding door, as we know it today, and the attached counterframe, are an all-Italian idea and appeared for the first time in the mid-1960s.
A practical and innovative intuition that was not immediately accepted in Europe, but that thanks to its enormous importance in terms of design and especially in terms of functionality, has managed to depopulate from the 80s onwards and has come down to the present day.
Filmar sliding door solutions are the synthesis of the heritage made in Italy of the last 50 years, a tradition that speaks of good design and excellent quality, principles that Filmar keeps alive in all its products.