After many activity years and many successes in sliding doors subframes production, we felt the need to tell you about our company, offering our items to a wider audience and providing a new benchmark: the web .
Our aim , in fact , is not simply the advertising of our products, but show you the passion and attention about detail that we put into building our subframes and test them.
Each subframe, in fact , is intended and designed to be perfectly integrated with the sliding door that houses, making unique the environment where they are inserted. Each structure is then conceived in a whole perspective and from this idea take life the project.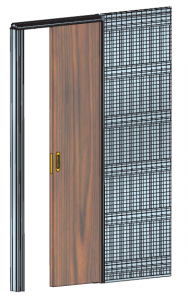 An example of this is the subframe "luminoso" , thought imagining a study or, in any case, imagining a working environment that needs a uniform and optimized illumination. Another striking example is the model "New age simplex" , obtained by reasoning on essential and minimal environments , such as a really small kitchen or a utility room . The Simplex , in fact , is thought to divide adjacent spaces , conceptually distinct but not separated.
The idea is to think to the sliding doors, and then to their chests, such a furnishing concept and not only as a separator of environments . The sliding door must not separate but, on the contrary , have to connect two environments , so his chest must contemplate architectural elements that would reflect the places that connects.
The other key aspect that represents the soul of our production is the quality control of the subframes, carried through testing and meticulous quality control. Our company received the quality  certificate of the prestigious Giordano Institute attesting the excellent workmanship of each component of our chests.
Quality, reliability and durability characterize our work so we want to transmit it to our users through an accurate description of the offered  products.
The website will be an excellent contact point between Filmar and its users with which they can take advantage from our customer service.
Filmar, passion for quality !