The second architectural scheme presented here is of a polygonal houseplant.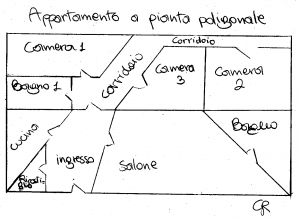 In this scheme we can see how the apartment is composed of several polygonal rooms.
The section shows how each polygon is irregular, so as to be able to make greater use of the spaces, even creating new ones.
It is still preserved the division between the living and sleeping area and there is a certain rationality in the distribution of the compartments.
Although the shows plant irregular shapes of the rooms, inside, this asymmetry is hidden by the central structures that allow the apartment the same navigation: entrance and corridors.
Very nice, in particular, it is the slightly unbalanced input room that does not generate a visual imbalance but fascinating for its shape.
This new way of structuring the apartments may represent a significant turning point in the use of elegant spaces, an elegant use that more optimizes the use of spaces.
Even in this case, the use of sliding doors may prove to be a winning choice for two reasons.
The retractable doors allow to exploit even small triangular rooms, for which the use of a hinged door would remove much space and, in some cases, completely preclude the use of the room itself.
The sliding doors emphasize, in an extraordinary way, the elegance which results from the apartment asymmetries.
To better understand this concept, imagine you 'entrance of our apartment with the living room on your right and the kitchen on the left. Visualize now the two doors which are the entrances of the two environments, a sliding door on the right that rests on our counter "New age duetto", the other side takes a more sober but equally elegant door, placed in trustworthy frame "New Age base" .
The visual effect offered by the juxtaposition of the two sliding doors is extraordinary, two different forms of elegance that make you want to come now in one now in 'other room.
We can therefore say that the architectural revolution of the apartments in asymmetrical polygonal plan would not take place without the use of sliding doors.
We at Filmar, always attentive to the evolution made in the field of architecture, contribute actively to the development of new furnishing philosophies, planning solid counterframes , reliable and elegant even in non-standard measures.
The versatility of our metal frameworks allows you to use our solid counterframes for sliding doors in both walls and plasterboard structures, allowing unique design solutions.
Filmar
Counter frames for sliding doors and functional furniture