As described in the previous article, Filmar develops an
Efficient counterfoil idea
It is not just about producing functional objects for their use, but to produce real space ideas.
So from an original idea, based on the relationship between elegance and reliability, the "New Age" counterframe is born.
This idea arises from essential architectural demands that do not neglect elegance and transforms, according to changing needs.
That is why, after the launch of first "New Age" model we decided to produce a class of "New Age" models.
After creating the base model, our designers and our technicians have immediately felt the need to evolve the idea in a two-door model that would meet the needs of customers who have to separate large spaces.
So the "New Age Duetto" model was born.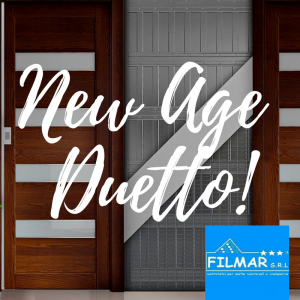 While maintaining the essential characteristics of the base model, duetto has some substantial differences.
The double door provides a different layout of the rails, making them more durable without losing efficiency.
The model is designed to retain the ease of assembly of the basic model for each leaf, for this is equipped with technical features which allow to assemble it  in a simple manner.
Each Filmar counterframe must be the result of a constant study, so we have a lot of models to fully meet the needs of installers thinking constantly to the end customer.
Filmar also chooses to preserve the quality of its materials in all models to maintain its reliability.
Not only that, Filmar submits its own countertops to common tests but also to specific tests for each model.
While maintaining the basic production techniques, Filmar studies every day what variations make to its models to make new and better ones.
Filmar, the technique that serve the man.