The subframe for sliding doors can be mistakenly seen as the simple support of the sliding door.
In our view, however, the counterframe for sliding doors, is understood as the heart of the door itself, accomplice and creator of its elegance.
  Counterframes for sliding doors,  elegance that starts from the inside.
The complex systems of our assembly line combined with the experience of the technicians, give life to the individual pieces of the subframe, pieces that will be simple to assemble.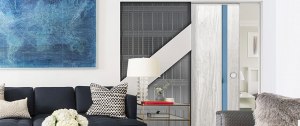 As the image shows, the simplicity of assembly, makes the counterframe easier and more manageable, so as to be easily adapted to the sliding door that will be inserted.
All this makes the result much more elegant and easily reproducible by every installer.
Contrary to what one might think, it is from the inside that the elegance of a sliding door is born and not only due to the simplicity of mounting the counterframe.
Even the absence of welds and the clinching between some parts make the counterframe shapes for retractable doors better.
Our idea is not to conceive a container for hidden doors but rather to build the heart of the door, a structure perfectly integrated with it.
It must also be said that an excellent counter-frame for concealed doors gives stability to the sliding door and, therefore, preserves its elegance over time.
Our trolley kit, tested by Istituto Giordano, resists numerous opening and closing cycles of the door, simulated with very heavy panels.
The subframe is both the "soul" and the "envelope" of the retractable door and designing it in a serious and conscientious way makes the door unique!
Every installer is well aware that the choice of the subframe can determine the success of the installation of each single sliding door, whether it is a double door or a single door.
Filmar also provides oversized counter frames that can make elegant sliding doors larger or smaller than normal.