Classic or modern look? Warm or white and neutral shades? Even interior doors, although a purely practical component of the house, need to be chosen carefully so as not to interrupt the harmony with the rest of the furniture.
But which model to choose ?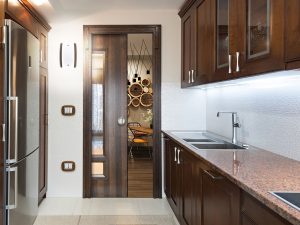 THE TIMELESS CLASSIC
A "classic" door can be defined as such when it has jambs and frames slightly protruding from the door panel with regular and straight lines, a sober and neutral colouring or in some cases reminiscent of a type of wood.
In this category Filmar offers two of its most versatile models, Base and Duetto, both suitable for plaster or plasterboard walls, are what you need if you have chosen a classic theme for the furnishing of your home.
CONTEMPORARY MINIMAL
This category includes elegant doors characterized by a refined design that aims to minimize any encumbrance and clean up the lines as much as possible.
No protruding elements, everything is designed to be perfectly integrated with the wall, and to completely camouflage the door this is very often chosen in the same color as the surrounding wall.
The Filmar offer for this category is the Simplex counterframe, designed for a concealed sliding door without external finishes, also available with an assembly kit that allows you to use a glass door.
Whether the style of your home is ultra modern or simply classic, the Filmar line up has something for you:
Click here to discover our production of counterframes for interiors