Beautiful and functional, suitable for all environments, for the more spacious ones like a living room and for small rooms like a bathroom, the glass sliding doors with Filmar counterframe give lightness and brightness to the rooms. The concealed models also save space. Thanks to the many finishes, satin or polished, with or without decorations, the creative possibilities are endless and for all tastes. Here are some ways to best integrate them into the design of your home.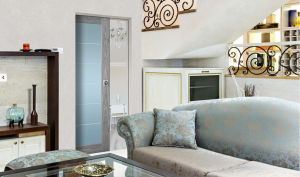 Maximum discretion
The bathroom is certainly an excellent location for a glass door, the purely minimalist design and the simplicity of the finishes emphasizes the rest of the components outside the door, also thanks to the various satin and matt finishes privacy is guaranteed.
Decorations without limits
The sliding glass doors, made on crystal laste with transparent, satin or smoked base, are suitable for many types of decorations and customizations, from hand painted decorations to designs applied with glass fused or sandblasted, there is no limit to what you can represent to embellish your door.
Fusion with modern materials…
The versatility of glass allows it to be combined with different types of materials, one of the most used is aluminium, which combined with glass, both in the polished and satin version, can add precious details without weighing down or affecting the minimalist core of a glass door.
…or with classic materials
If, on the other hand, you think that a sliding door made entirely of glass is too simple and gives a look that is too cold and austere, you can combine it with a warm, classic looking wooden finish that will dramatically change the atmosphere of your rooms.
Click here to discover all products