These days, doors should not only look good, they should also be designed to protect the environment.
But how to make a sustainable choice?
First of all, starting from the choice of materials, glass and aluminium doors are made to be completely recyclable and environmentally friendly, while maintaining the highest quality.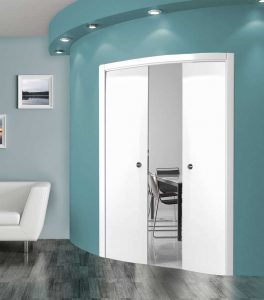 Choose your style
Whether you are a minimalist or a maximalist, a modernist or a classicist; whether you live in a loft, an industrial-style apartment or a traditional apartment, you can find a door that suits your home and your vision.
Choose the type of glass
Looking for privacy or transparency? Visibility or isolation? There are different types of glass to choose from and with each finish different features that might suit you. For example, frosted or opaque glass for more privacy, or transparent glass for better light management.
Choose the type of subframe
Aluminium and glass sliding doors can be combined with all our steel counterframe models, whether you want to use a large double leaf door, a single leaf, or a curved design door, as in the case of our "Arco" product, there is a product for every need in our line.
Sustainable installation
Filmar sliding door counterframes are easy to install, which means that the environmental impact is minimal due to the limited manpower required for installation and the low creation of waste materials.
Through the use of environmentally friendly materials and sustainable manufacturing processes for its sliding door frames, Filmar does its part to help alleviate the burden on our planet. This is because we are as committed to safety and sustainability as we are to quality, and we believe that everyone can enjoy the most comfortable lifestyle with total respect for the environment.