The entire range of "Filmar New Age" counterframes is manufactured using carefully selected top quality materials and state-of-the-art processing to ensure a high quality and long-lasting finished product.
In particular, the side panels are made using vertically corrugated galvanized steel sheets, but what is the manufacturing process of this type of steel?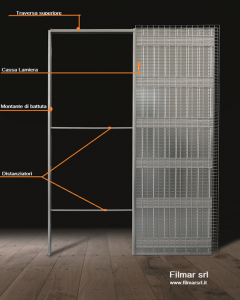 Hot Galvanization
Galvanized steel is a zinc coated carbon steel. The most common method of zinc coating is the hot process.
The hot dip process consists of dipping the carbon steel in a bath of molten zinc (about 680 degrees Fahrenheit). When the material is removed from the zinc bath and cooled, a reaction occurs with oxygen in the air, which allows the zinc to become part of the steel (an iron-zinc bond).
Although this is the most common form of galvanisation, it is often used for steel products that have been manufactured previously, as the thickness of the final product is not easily controlled.
Another method of galvanisation is continuous galvanisation.
Continuous galvanisation
Continuous galvanizing applies zinc coating to the surface of a continuous steel strip (coil) that passes through a zinc bath.
When the coil leaves the zinc bath, it takes an additional layer of molten zinc with it. The excess zinc is removed with high pressure air to create the desired thickness and the material is then left to cool.
Filmar chooses the best materials for the construction of all its models of sliding door counterframes, but also the production processes are fundamental, for this reason the entire production of counterframes is made using the most technologically advanced machinery able to ensure a higher quality of workmanship than others available on the market, such as punching machines, profiling machines, shears and numerical control (CNC) press brakes.