The structure of a subframe can be studied specifically for particular needs.
Ideas for a sliding door: the subframe
For a sliding wall, think of a set of parallel tracks that carry the individual doors.
These tracks must be spaced in such a way as to leave little room for the individual doors that close.
It is good to provide a not too high number of sliding doors and a single upper track, this system allows you not to distinguish the doors when closed, simulating a wall.
Obviously such a structure provides a very high customization compared to the room / room that you want to divide, in this sense the involvement of Filmar is primary and the experience allows you to intervene and suggest architectural assumptions that can make, as always, elegance a strength that contributes to the stability of the structure.
It is essential to minimize the yoke between the sliding door leaves and minimize the thickness of the tracks to complete the wall effect when the doors are closed.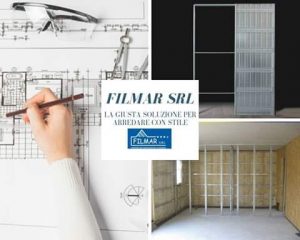 To divide, instead, an entrance from the main hall or from the living room is necessary, a very large counterframe, able to accommodate a double door.
In this case it may be necessary to construct the counterframe also by structuring the plasterboard walls, if there were not already normal walls in which to hide the doors.
The long experience of Filmar allows not to distort the architecture of the environments suggesting engineering assumptions able to satisfy the end customer also from an aesthetic point of view.
Beauty, ideas, reliability, drive the construction of our counter frames even in the case of oversized or unusual structures.