In these two articles we will show how a sliding door and, therefore, also the counterframes that compose it can be used in a different way than usual.
Ideas for a sliding door
1.     Sliding wall
A sliding wall is used to divide a very large room by creating a real wall of doors.
This solution allows you to divide the environment without modifying its architecture, though improving it in some aspects.
Try to imagine a wooden wall that divides an office into two parts, creating, for example, two open-spaces.
The functionality of a sliding wall is multiple, used in spousal rooms, for example, it can be used to enlarge or resize them depending on the patrons who belong to the room itself.
Often, a sliding wall gives such depth that you do not realize you are in the hall of a restaurant that has been reduced.
This offers, for example, the idea of a room that is always full, allowing the restaurant to acquire an ever better reputation.
1.    Partition wall between entrance and living room
In this case, a very large sliding door is used that separates the entrance from the living room or from the main room, in an elegant way.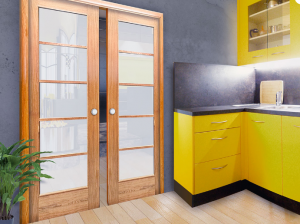 This solution finds favorable applications in very large houses or architectural structures such as museums that, otherwise, should be modified from an architectural point of view.
In both cases, Filmar provides oversized counter frames that allow a perfect, elegant and functional installation.