We continue to exhibit the winning architectural and elegant solutions, outlining the features of a small stylistic revolution.
After speaking of architectural curves of the houses and cylindrical structures, we reflect on angular architectural solutions that can optimize, once again, the spaces in a very elegant.
We set new attention to a traditional architectural plan, which is a classic rectangular section.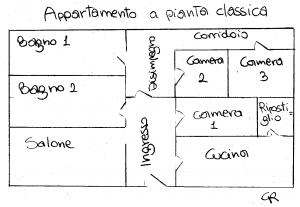 Counter frames for sliding doors as an architectural solution
We can see, in fact, that inside the rectangle that bounds the outer walls, are reproduced other  rectangles or, at most, squares that make up the rooms.
This structural pattern is defined and blocked by its own parallelism of the walls, the parallelism that does not allow at all to optimize space.
The spatial parallelism of the walls gives definitely more order to the arrangement of rooms but, in addition to greatly reduce the chances of space exploitation, gives very little elegance.
You need to revolutionize the arrangement of space, completely changing the architectural point of view and providing a "disorderly asymmetry" that confers elegance and style, but especially fully optimize the space used.
In this and next article we will show two examples of completely asymmetric architectural plan composing in an extraordinary way the spaces of our apartments.
The structure we are discussing today is the architectural plan with angular shape, the plant that we represent here below: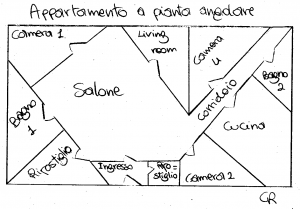 As we can see from the plant, the structure of the apartment does not respect any specific order and, above all, the interior spaces are not affected by the shape of the exterior walls.
The use of space, however, is such as to make possible the realization of a large closet more (Convertible also in room) and a beautiful living room.
We can then note that the angled-plan lounge is much wider than in classical plant salon.
As regards the elegance, it is immediately known that the angular structure gives a unique class to the apartment, precisely due to structural asymmetry.
Up to this point everything suggests that structure the houses in an angular way does not lead to problems, but in reality it is not.
We actually note that for many angular structures of the flat, insert a hinged door, can greatly reduce space usage.
To resolve this issue Filmar proposes the use of sliding doors and its subframes, which can be inserted both with plaster structures both in structures with plasterboard.
In this way our subframes become an integral part of the furnishing solution, contributing in such decisive way also through the use of out measurement subframes.
Filmar
Subframes for sliding doors as an architectural solution