In this article we talk about the elegance lived in the family, even through our counterframes, for example, living a meeting or spending time in environments made unique by our sliding doors.
We want to focus on the warmth that can be lived in the family and on how our sliding doors can contribute to the beauty of the home.
First of all, let's focus on this beautiful image: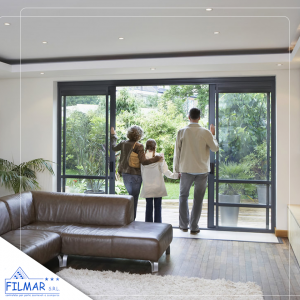 It is a simple picture that portrays a family of our days, projected towards the future.
The framework is made unique by the sliding door that opens silently on the challenges of every day thanks to the technology of our counter frames.
This family looks forward, despite being well rooted in its present, represented by a comfortable and unique environment, right here our sliding door plays a fundamental role, entry into everyday life but also entry into an elegant and non-trivial environment; entry and never exit because our doors connect and never divide.
Elegant family entrance counterframes
It is precisely on the concept of family entry that we play a large part of our work, we know how difficult it is to move forward in the daily vicissitudes, so we want to offer our customers the feeling of being welcomed by our sliding doors, do not go out.
It may seem strange, but often we do not even notice how much stress can ease the perfect functioning of a sliding door and how much this makes it a welcoming entrance. Paradoxically, we realize this feeling of well-being only when it is absent, only when there is no silence and the sweetness of a subframe that makes the movements of a sliding door pleasant.
It is the continuous attention of Filmar towards all the details that make up a counterframe to transform simple "outputs" into comfortable and elegant family entrances that connect the environments of our life.
We like to remember all this even during the Christmas holidays, which many of us will spend with the family.
Imagine the beauty of entering the laid out lounge where you will celebrate Christmas and New Year's Eve together with relatives and friends, opening the entrance in a simple and silent way you will surprise those who are already sitting at the table waiting for you.
It is precisely in these moments that Filmar designs its counterframes, always trying to improve its standards.
Filmar always thinks of its customers, customers who wish them the best of Sante Feste.