As always, in this short article, we try to tell the emotions that a sliding door can give.
The technical descriptions, in fact, are not sufficient to understand what feelings can be felt by opening a door with a Filmar subframe.
So we try to explain at best the ecstatic sensations that a simple gesture can provoke.
Counter-frame seal of elegance
Opening or closing a sliding door signed Filmar is not a trivial gesture, certainly in the daily grind we fail to notice the beauty of such a gesture but, come in the evening, we can stop and, opening our sliding door, listen to the gentle rustle of the flowing track leaving almost transported by the movement.
Not just a door, but an entrance that allows us to access the small universe of our family comfort.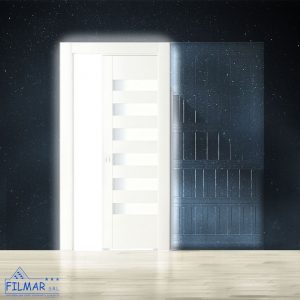 The opening of a sliding mail must convey a sense of serenity that welcomes us and our efforts after a busy day.
Filmar knows all this and also knows that the subframe is the seal of elegance and comfort that the sliding door must transmit.
Every clinching, every bending, every milling, is carried out starting from the concept of aesthetic and ecstatic comfort that the door must transmit to those who open it.
For this reason nothing is left to chance, since the first research on materials: tempered steels, light alloys, etc.
The assembly is carried out with spasmodic care to make every counterframe made in our workshops unique.
Every moment, every moment, every operation that involves our technicians in the construction of counterframes and aimed at realizing the ecstatic sensations we are talking about in this blog.
However, the description does not totally give the sensations you could feel when opening a sliding Filmar door, for this reason we invite you to come to our premises to experience the passion that our craftsmen put into manufacturing the counterframes and to experience the pleasure of opening a door Sliding Filmar.