Create Movement, research, design up to build the soul of the best retractable doors.
This is what we do in Filmar to build
Counterframes for top quality retractable doors
Thanks to the Filmar counterframes, the retractable doors you imagine come to life with lightness, connecting the spaces of your home.
Our counter-frames allow the perfect closing of your retractable door, guaranteeing privacy and silence whenever you need, without invading your space.
The range of new age counterframes, for example, transforms a wall into a new canvas to be rewritten and redesigned.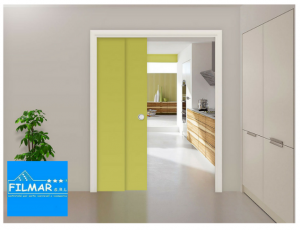 We design the space of each environment without giving up on patented and high quality technological features.
Our retractable doors save space allow you to expand the design of an ambiante, giving life to ideas, until then, architecturally unthinkable.
In the picture you can see how the retractable door goes to hint at a brushstroke of dynamic color that changes the appearance of the environment in which it is located at each opening / closing.
Our products provide excellent aesthetic and functional solutions suitable for even the most ambitious architectural projects.
Filmar's sliding solutions offer the best integration between door and wall, guaranteeing an extraordinary elegance even on curved walls.
Due to  the versatility of our retractable doors we can let ourselves be fascinated by ambitious architectural projects that include wonderful curved spaces.
With the New Age arco system we can manage functional spaces or functional services, sometimes even recovering unused areas of our home.
Filmar: solutions at your fingertips.