We want to compare some results obtained in the tests carried out by the Istituto Giordano on our counterframes with the results obtained by our most famous competitors.
Counter-frames comparison for retractable sliding doors
We begin by underlining that, according to the news reported on the web, our top competitor has carried out his tests at the Istituto Giordano in September 2006, while our tests were carried out in December 2010, a very relevant data.
The same competitor reports a durability test carried out on 100,000 cycles, subjecting the counterframe to a dummy door weighing 120 kg.
Our counterframes for retractable sliding doors have been subjected to a much more intense duration test, 150000 cycles, subjecting the false door to a dummy door of 240 kg.
The result of the test on our concealed door frames is also better: "light signs on the wheels of the carts", while the results of our top competitors indicate: "slight signs of wear of the bearings and the rubber of the carts".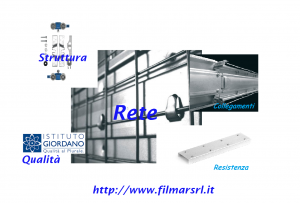 Another our competitors has even tested the life of the carts by subjecting the counterframe a mass of only 60 kg by making the same number of cycles.
The duration test serves to understand, on average, how long a door will last, ie the subframe that contains it.
In our case, the counterframe for retractable sliding doors lasts twice as much in terms of weight and a third more in terms of time, compared to our major competitor.
The comparison sees us even more ahead than the second competitor mentioned, in fact our counter frames have a quadruple duration in terms of weight, so there is no comparison.
The examples cited are all verifiable from the web and have been taken from the web pages of two of our competitors, including our biggest competitor.
The research carried out by Filmar to improve its counterframes has never ended and is aimed at exceeding the quality standards to guarantee only the best for our installers.
Filmar, when quality is an art.