Often, to improve the living of an environment, it is necessary to combine elegance with the available spaces.
If you have a wall that is not large but thick and you want, however, to create a stylish double door design, you can think about the New age Tandem Single counterframe.
COUNTERFRAME TO OPTIMIZE INTERNAL
The counter-frame is provided with a double binary that allows two reclosable doors to be inserted on the same side.
This particularly elegant solution can also be designed to use particularly thick walls that would otherwise be unused.
The single tandem countertop allows a double aperture while using a single counterframe. For this reason, even in the single version, it offers a very wide passage light, allowing you to connect even very wide environments.
In summary, a single Tandem is the ideal solution for those who need to connect spacious environments through not very large walls, for which a double frame can not be used.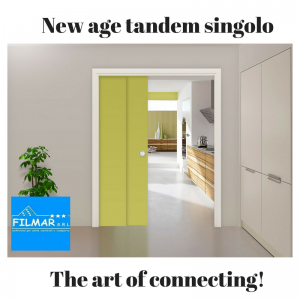 The plasterboard version allows to mount the frame countertop even in narrow and not thickened walls.
If this is the case, remove the wall (remember that the walls are not large, therefore not a load bearing wall) and replace it with a thicker plasterboard wall, thus able to contain the counterframe and the doors.
Tandem single is really the ideal and elegant solution for connecting environments that we could not connect otherwise.
We conclude by highlighting how the single Tandem of Filmar is another example of how the construction of our countertops takes place using the logic of problem-solving, that is, by placing on the part of those who will benefit.
Filmar, the art of composing ideas.