When designing your interior, it helps to have a clear picture in mind of how you want your home to look when it's finished. But for many people, interior doors can often be one of the last things they think about.
And that's a shame, because it's really imperative that your retractable sliding doors blend well with everything else in your home, from floor to ceiling, to really make the synergy of your interior complete.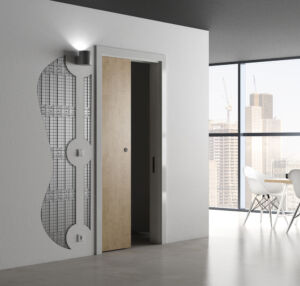 The 'unique design
Many people today prefer a single door design for the whole house. This has many advantages and creates a sense of cohesion and harmony throughout the space, and by choosing different finishes for the same design you can have variations while keeping the same look.If you choose this approach, make sure your door matches the floor of each room it is installed in.
For example, in a kitchen, do you want the wood finish of your door to match the wood of your table or cabinets? A general rule of thumb is that two pieces of furniture that look almost the same but don't quite match will hurt the eye more than two separate pieces. Thus, an oak door might not go well with a floor of a slightly different colour, while the same oak door might look fabulous with dark grey floor tiles. Choose complementaries rather than tight matches and you will add great 'depth' to your overall look.
Trendy greys
Grey continues to show no sign of slowing down as a trendy colour, and doors are no exception.
Shades of grey are a contemporary classic that lends a fresh style to interiors.But before you opt for a door like this for your entire home, consider once again the floor and the rest of your palette, because although grey is actually a colour that matches a wide range of different paints and styles, there may be some floors and styles that it doesn't blend with, a red brick terracotta style floor, for example.
Matching laminates
One of the best features of laminated woods is their uniform appearance.
Some people prefer the individual and robust grain of natural wood, while others like the smooth charm of laminate. It's purely a matter of personal taste, but even this type of wood must be chosen with attention to what surrounds it. Your smooth laminate door, for example, might not be the ideal choice for your rustic country kitchen floor, but it would go perfectly with a smooth, shiny floor in a contrasting colour to the wood.