Door trims are essential, they are one of the most used components of any door, but how much consideration is given to the choice of handles and knobs? It is easy to consider these door elements as a basic inclusion, but a poorly chosen handle or knob can compromise the uniformity of your style, as well as functionality! Depending on your choice of door, there are many aspects to consider.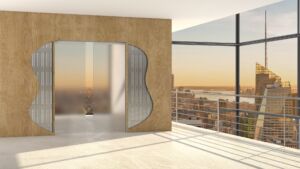 Knowing door types
A pass door has a handle or knob, but no lock. Passage doors are typically used as corridor access doors or for lockers.Privacy doors, on the other hand, generally used for bedrooms and bathrooms, are generally equipped with a push-button lock. This lock can be manually engaged and disengaged from the inside. It can also be locked/unlocked using a pin key inserted into a small hole. This is located on the outside and can be used if required. Again, the choice is between handle and knob.But what about cupboards and other interior doors that do not require a lock? In this case, one can use knobs or dummy handles, which do not turn.Another type of lock is the keyed entry set. This is a lock that can be locked and unlocked from both sides for controlled access. Most often, entrance doors, which allow access to the house, use this option.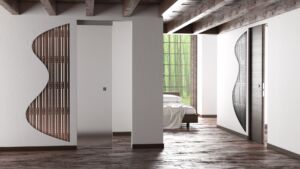 Knobs or handles?
The choice generally depends on the occupants of the house. Knobs can be difficult to handle for the elderly, small children and people with disabilities. For this reason, the choice of accessories can be influenced by ease of use.Style is a key factor and has the ability to balance the overall appearance of a space. A wrong choice would be to combine an oversized contemporary brushed steel handle with an art deco style door, breaking the harmony.
Modern and contemporary homes are characterised by clean lines and simple plates in chrome, stainless steel, matt black and discrete locking mechanisms.
The handles and locks of older, traditional-style homes, on the other hand, depend on the era.Undecided about your choice? Click here to discover our line-up, and choose the style of sliding door counterframe that best suits your needs.