Whether you're looking to update your home or you're tackling an extensive renovation project, fitting new sliding patio door frames is a great way to give your home a fresh, new look. If your existing doors are not in keeping with the style of your home, changing them in favour of the right design can give your home an instant facelift.
If deciding which doors to buy it can be difficult with such a wide range of choices and styles, it is therefore useful to ask yourself a few questions when deciding.
How many doors do I need in total?
Even if you are not going to change them all at once, it is better to order as many as you need at the same time.
Do I need exterior and/or interior doors?
Exterior and interior doors have very different characteristics and properties, so knowing where they will be placed will save you time when searching for your new doors.
What style of door fits my current décor?
Matching doors to the style of the house is crucial. Do you need something modern or traditional with lots of panels or flush; white or wood-coloured?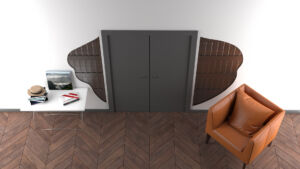 Do I want glass doors?
Glass doors, if positioned correctly, will allow light to flow through your home, illuminating even the darkest rooms that do not enjoy direct light.
What colour/framing style should the door have?
Consider whether you want the door to blend in or whether you want the door to stand out with a contrasting frame.
Do I need double doors?
You can create a very wide entrance with double doors, which are especially recommended for rooms of a generous size.
What kind of handles do I like?
Should they be purely functional or do you want them to be part of the door design? Remember to budget for any frames, architraves, skirting boards and handles you need.
If you have further questions or would like assistance in choosing the most suitable counterframes for your needs, please contact us.