Durable, practical, stylish and affordable
Widely used in almost every aspect of interior design, laminates are the perfect compromise between appearance, reliability and environmental friendliness. Commonly used to mimic the look of wood and other natural materials, laminate sliding doors are exceptionally trendy and offer a look that blends seamlessly with popular laminate options for floors and kitchens.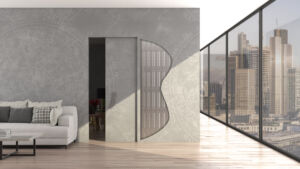 Practical, easy to clean and maintain
We all lead busy lives and don't want to spend hours laboriously dusting around the house, the good news is that laminate doors are easy to clean and maintain. Not only are they very resistant to moisture and heat, but they also resist scratches better – good news for anyone with small children or pets!
How to care for laminate sliding doors
As we have said, laminate doors are very easy to clean and have very little maintenance. A simple wipe from time to time with a slightly damp cloth and again with a dry cloth to remove moisture is all that is needed.
Choose the type of counterframe
Laminate sliding doors can be combined with all of our steel counterframe models, whether you want to use a large double door, a single door, or a curved door design, as is the case with our 'Arco' product, there is a product for every need in our line.
Clicca qui e scopri tutta la selezione di prodotti Filmar e trova ciò che è più adatto a te da una vasta gamma di controtelai per porte scorrevoli a scomparsa.