Retractable doors are the ideal solution for many homes, but are particularly useful for self-build projects.
They are practical, stylish, space-saving and easy to install. In order to fit a pocket door, a cavity must be prepared in the wall to hold the counterframe, and in the case of construction this is planned at the beginning of the design stages.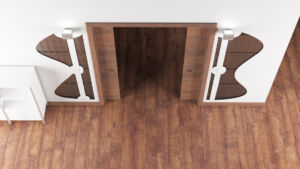 Concealed sliding door systems are excellent for areas of your home where you need to save space.
This is because the clever design slides in and out of a cavity in the wall, rather than opening into a room on a hinge mechanism. Service rooms often benefit most from the valuable space saved, as do en-suite bathrooms. Where you don't have a lot of square metres to spare, a sliding door will allow you to design a room and position furniture without the need to consider where the door might get in the way. Our specially designed sliding door systems give you the choice of a 'New Age Base' single, a 'Bright Single' or a 'Simplex Single' in any size in height or width.
But space saving is not just about small areas, it is also relevant for areas where you want to maximise a larger space. A good example is to use the double door system that can be opened to create a larger space.  In this case you can use our 'Tandem Double' counterframe system, and to avoid the hassle of electrical sockets you can choose our 'Bright Double' sliding door counterframe model.The doors can be closed and opened to change the space as required, but again, it means you don't need to worry so much about where the furniture goes.
Contemporary Style
Concealed doors are not only practical, but also quite stylish. Wherever retractable doors are used in your home, the stylish design will impress guests and put you at ease in everyday moments.The versatility of Filmar's retractable sliding door frames means that almost any style of door can be adopted, so you can choose the right model for any area of your home. A single concealed door system with opaque glass, for example, could be an elegant and practical option for an en-suite bathroom that does not benefit from its own natural light, so that light from the adjacent bedroom penetrates to illuminate it.
Tip: When choosing concealed doors, the only ones to avoid are those with protruding mouldings, as they are likely to not fit the cassette system in your cavity wall.