The use of textures provides an opportunity to warm up colder, darker spaces within homes. The trick with textures is to achieve a balance, to create a combination of different textures across a range of materials, but beware, don't be tempted to add too many textures, or it may leave your rooms looking busy and cluttered, and more chaotic than relaxed.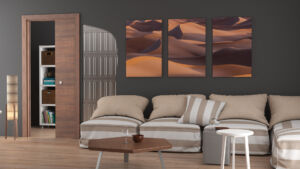 Feeling the texture with fabric, the attraction of touch
One of the most commonly used textures is, of course, fabric. Reupholstering furniture with a strong, textured fabric can breathe new life into any piece of furniture, the material does not need to cover the entire piece of furniture and can easily be attached with Velcro to make it more versatile.Velvet is the number one suggestion for introducing texture through fabric, as it is suitable for any structured room.
Work on the texture of the wallpaper
Using textured patterns and textured wallpapers are great ways to create a feature wall. However, textured wallpaper tends to be very filling, so it is advisable to only use it on a feature wall to avoid overuse within the room.
Upcycling wood
Upcycling is a great way to introduce texture into a room. If you're integrating new design elements with traditional features, you can create attractive pieces of furniture from natural materials, such as rustic logs.Renewing your old wooden doors is another way to add a unique touch to your home by incorporating the much-loved texture of wood.  From mirrors to chalkboards, coat racks and chairs, you only have to look around to find something suitable to be revived.
Define your design with textured doors
Of course, doors are an important design element. We know that doors are an integral part of interior design, and with Filmar's concealed sliding door frames, you can use different types of textured doors with different effects, from rippled and textured to cleaner glazed designs.
Check out the entire line of Filmar counterframes  concealed sliding doors, for plaster or plasterboard, suitable for textured doors.