With house prices continuing to skyrocket, it's no surprise that more and more people are finding themselves with downsized homes or living spaces, and therefore having to deal with rather small rooms.
Whether it's the small guest room that can only fit a single bed, or the combined bathroom/laundry room that's squeezed into a cramped area, very small rooms are very common in Italian homes.But fear not, we're here to help you choose the perfect door for these spaces!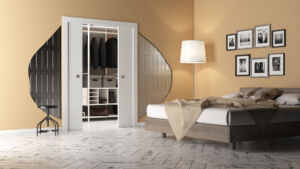 Concealed sliding door frames are the best solution for small rooms. This clever product not only takes advantage of unused space in the wall, but also provides more floor space that would otherwise be occupied by opening a normal hinged door.
They do not take up any additional living space, which also creates space for additional accessories and furniture. In addition, the elegant design fits in perfectly with the minimalist style that everyone loves.Make the best choice with Filmar's range of counterframes.
Among the products are the New Age Duple model, perfect for any master bedroom, the New Age Base, ideal for all those rooms such as closets, bathrooms, kitchens, where recovering the living space becomes essential, and the spacious New Age Tandem, the single counterframe for two parallel sliding retractable doors that, thanks to the dragging system, closes into a single counterframe, thus considerably reducing the overall dimensions. The range of counterframes for Filmar retractable sliding doors includes a model for every need.