How do I take measurements for an internal door?
Are you looking to replace your internal doors but not sure what measurements you need?
Buying new internal doors is not a frequent activity for most people and knowing how to take measurements is often questioned.  Fortunately, it's simpler than you might think.  Here are some tips to make sure you get the measurements right and don't end up with a poorly fitted door.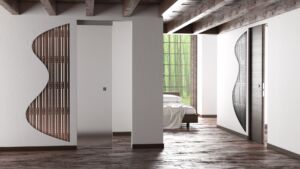 How to measure a door
The first thing to point out is that you should NOT measure the existing door, but base your measurements on the door opening using three measurements: width, height and thickness.
Height: measure the inside of each vertical side of the opening, remembering to take the floor covering into account, the longer length will determine the height you need.
Width: take three measurements inside the door opening: top, middle and bottom.
Thickness: there are three standard thicknesses for interior doors, 35 mm (the most common), 40 mm and 44 mm. Measure the rebate of the frame where the door will be when closed.N.B. Door panels thicker than 40mm cannot be fitted to 54mm internal seat frames.
Oversized
If your door size requirements do not fit within the standard size options available, then a bespoke solution is required.
Many of Filmar's concealed sliding door frame designs can be ordered on request in oversized dimensions with widths ranging from 1200mm to 1600mm and heights from 2100mm to 2600mm.
Click here and discover the whole selection of Filmar oversized sliding door frames.