Designing a bathroom layout can be a challenging job. You need to take the time to assess your needs and those of your family to find the most efficient and functional design for the space you have available.
With Filmar's sliding door frames you can improve your bathroom layout and gain space without changing the walls.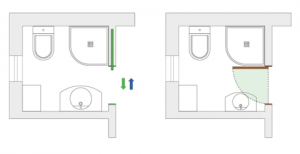 As the image above makes clear, the most effective solution is a concealed sliding door, as swinging a hinged door can be a real problem when trying to design a bathroom layout where space is limited.
Often the door swings into the bathroom, limiting the possibility of placing sanitary ware, or it swings towards the entrance or corridor. From the most classic styles to more daring solutions with intense colours.
The difference between en-suite and separate WC bathrooms
Depending on the architecture of the house, there may be different types of bathrooms, but the two most common variants, in addition to the classic bathroom with all facilities, are the en-suite bathroom and the separate toilet bathroom.
In the second case it is the one located at the entrance of a house, comprising only a toilet and a small washbasin. Especially in this second case, given the particularly cramped nature of the room, the installation of a counterframe for concealed sliding doors is an almost obligatory choice that can make a real difference in terms of space recovery.
Discover the whole range of Filmar counter frames for sliding doors suitable for bathrooms, Click here