When choosing retractable sliding doors for your home there are many factors to consider, but one of the most important of these is the material, and one of this year's trends is the return to the use of refined and atypical woods.
Every wooden door is truly unique
Customisation in the home is important, everyone wants to add their own personal touch to the home because they want it to reflect their personality.Just as every person is unique, so is every wooden door, and because wood is a natural resource, no two pieces of wood are alike. This results in a beautiful, natural-looking door that is uniquely yours.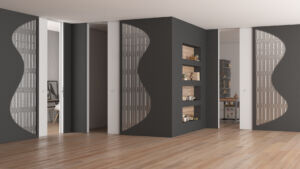 Different styles
If your door is going to be the focal point of the room, or an important accent of your design, the styles that can be achieved by using different woods are almost endless. Do you like straight grains or wavy grains, narrow grains or wide grains, or grains that are close together or far apart? Both the type and the cut of the wood will determine its grain.
Another consideration is the colour.
Each type of wood has its own natural colour and most woods can be stained to achieve a wide variety of different colours.Any size or shapeWith Filmar sliding door frames you have complete freedom of design. With the non-standard counterframes, you can select different types of non-standard sizes to fit any project.
Click here to discover the models of counterframes for outsize sliding doors